Internet Weather Map®
IT Admins can now check the status of Internet connections around the globe, finally answering the question "what's going on out there?". The Open Community based Internet Weather Map is available free of charge.


Boston Video Production
Need to add video to your website? Rewatchable is a Boston video production company that specializes in business profile videos and customer testimonial videos for corporate websites and social media. All videos are shot with high-definition camera equipment to produce exceptional quality video. Rewatchable also provides video search engine optimization services to help clients get their videos found in search engines like Google, Yahoo & Bing. www.rewatchable.com

Admins Speak Out
Email Admins speak out on what its like to run GroupWise and Exchange. Got an opinion to add? Send it to us!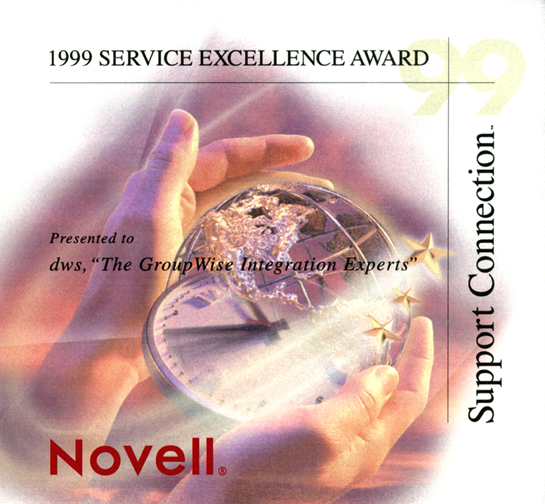 DWS Shows Its Solidarity
Our thoughts and prayers go out to all of the families effected by the events of Sept.11th. As a sign of solidarity, we continue to do business as usual, sending a strong and consistent message to those responsible - "United We Stand". DWS is operational, and continues to provide the best GroupWise support available anywhere in the world.
Facts on Why GroupWise is Better Than Exchange
Have you been searching for ammunition against Exchange? We're not afraid to show you why Exchange is an unreliable, unsecure, lackluster excuse for an Email package. You'll find all the dirt on our page devoted to showing why anyone who runs Exchange is headed for trouble.
Think Novell's Marketing Doesn't Exist?
All of these videos have been on national TV

Novell features DWS on GroupWise v6.0 World Tour
Novell released GroupWise v6.0 at the end of April, and is now getting the message out with a world wide tour touting DWS as the premier GroupWise support company

European Parliament engages DWS
The European Parliament, one of the most powerful ruling parties in Europe, has engaged DWS to assist them with their GroupWise system in their Brussels headquarters. This work was the result of a cooperative effort with 4AllNetworks, DWS's Belgium-based partner.
Novell awards DWS the "Service Excellence Award" for the second year
Once again, Novell has awarded DWS with the Novell Service Excellence Award for 2000, recognizing their superior commitment to GroupWise Customer service. Picked from more than 3,000 Novell partners, DWS was honored at BrainShare 2000 in Salt Lake, Utah.
I just wanted you to know how happy we are with our DWS Engineer's performance. In every instance she was able to diagnose the problem and develop a solution in a very timely manner.
- Tom King Sr. Network Administrator, Women & Infants Hospital
After working with our DWS Engineer for 10 minutes, I knew that he was heads and shoulders above the GroupWise engineers from other consulting firms. DWS fixed in one week what others couldn't fix in two months.
- Ashly Palles, Sr. System
Integrator, SatoTravel
DWS is one of the best consulting firms I have worked with. It is refreshing to deal with consultants that grasp exactly what you want within 15 minutes of coming through the front door.
- Christian Stanton
IT Manager
Pixley Richards, Inc